Wayne State's Art Department connects WSU artists to those affected by cancer across the country with its latest exhibit, Brushes with Cancer, which will be on display through June 15. 
The gallery is a collaboration between WSU's Art, Art History, Art Education, and Art Therapy departments and Inspirations, what Twist Out Cancer's program calls participants around the country who were touched by cancer as a previvor, survivor or caregiver. 
Each artist was matched with an Inspiration and spent four to five months getting to know each other either in-person or virtually. The task of the artist was to create a piece of art reflective of their Inspiration's journey, Twist Out Cancer's Director of Programs August Spree said.
"When you're stuck in your own story, it looks a certain way because it's only from your perspective," Spree said. "When you allow someone else to reflect that back to you, sometimes you're able to see it in a different light. It can be incredibly healing."
Spree said the goal of the program is to "facilitate more social connection and assist with the healing from coming through an experience (with cancer.)"
Michelle Lawrence, an Inspiration from Manchester, New Hampshire, spoke about the program at the gallery's opening reception on Thursday.
"To see your journey in real life with something tangible makes me feel seen and heard," Lawrence said.
WSU Gallery Manager Laura Makar participated and was matched with Lawrence, who wrote a poem to go with the art representative of her journey created by Makar. The collaboration is titled "From Cancer She Grew."
"(Michelle is) a rose that grew from concrete," Makar said. "I'm so amazed you never let it take you down and found ways to make it encouraging. We have made friends for life. The story doesn't end here, it keeps going."
Lawrence, who has been "twisting and turning" cancer for 14 years, explained her perspective on what it means to "Twist Out Cancer" in her Inspiration story paired with her artwork in the gallery. She said cancer has put twists on her life but she twists back and finds life lessons.
"These twists and turns have taught me the importance of patience, living in the present, love, having an open mind and not sweating the small stuff," Lawrence said. "Of course this sounds so cliche, but if you have cancer or a terminal illness like me, this dance makes sense and has a deeper meaning than words can express."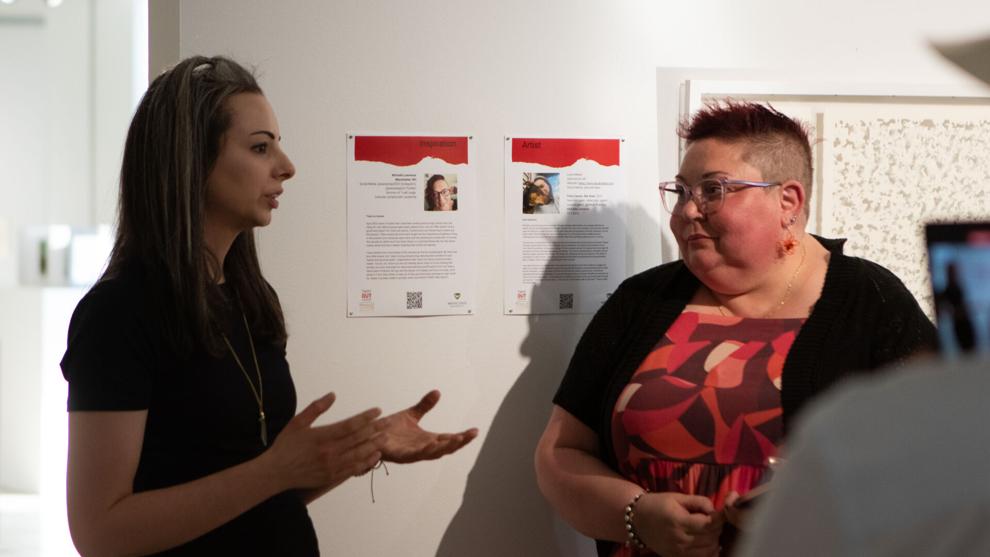 Jamie Dungey, an Inspiration from New Jersey, said the program helped her cope with her experience of being diagnosed with cancer right before the pandemic changed her surgery date. 
"This whole experience was therapeutic," Dungey said. "I used to do art when I was younger and it brought me back with an awesome experience and lifelong friend."
Dungey was partnered with Gallery Learning Community Peer Mentor Evan Condron. 
Condron said it was cool how much two strangers from different parts of the country had in common.
"As an art educator, I learn about people through the type of art they do," Condron said. "Jamie guided me through and helped me honor her story in the right way. I got to try and capture that and capture some of the places that brought her peace."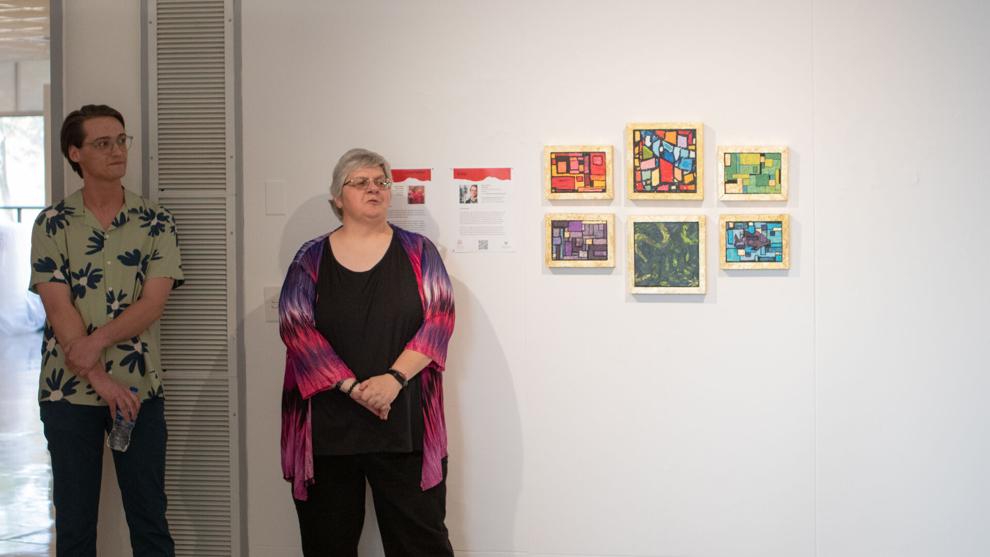 Spree said more than 240,000 people have been touched by Twist Out Cancer since its inception in 2011.
WSU Director of Galleries and Special Programming Thomas Pyrzewski said he has previously participated in a Brushes with Cancer program. He said a lot of the artists themselves have been impacted by cancer in some way and that all of them want to embrace the cause.
"I think taking art out of the context of ego even further and having it more emotional and impactful based on your experiences, rather than creating just for the average viewer is what's important in these collaborations between Inspirations and artists," Pyrzewski said. "It has been a really beautiful experience, and we're excited to have this program." 
Each of the exhibit's 17 pieces are up for auction on Twist Our Cancer's website with all proceeds donated directly towards the next Brushes with Cancer program, Spree said.
WSU's Art Department Gallery is located in the Art Building and is open from 12 p.m. to 5 p.m. Wednesday to Friday. The exhibition is set to close on June 15.
---
Natalie Davies is The South End's managing editor. She can be reached at [email protected].
Photos by Christian Hanks. He can be reached at [email protected]

link