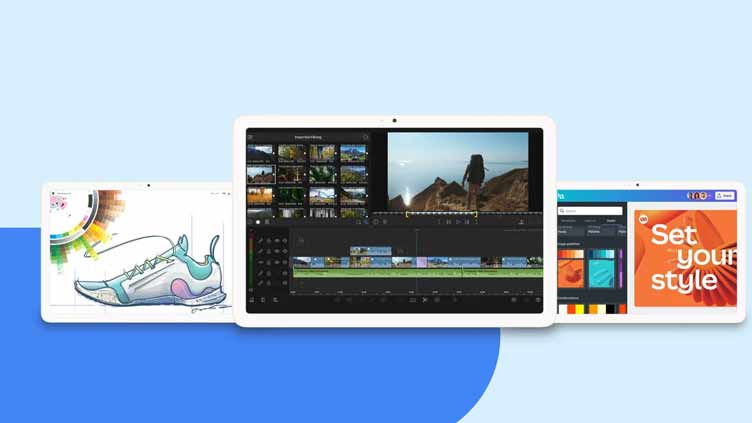 Technology
Users can try out them on Android tablet to make the most of their next creative project
(Web Desk) – With new tablets hitting the shelves like the Pixel Tablet and the recently announced Samsung Tab S9 series, Android is continuing to work with developers to adapt their creativity apps for large screens.
Google, in a blog, highlighted six apps that users can try out on their Android tablet to make the most of their next creative project: LumaFusion, Concepts, Google Photos, Sketchbook, Adobe Lightroom, and Canva.
1. LumaFusion


LumaFusion, one of the most popular video editing apps, is now available on Android tablets. The company brought in a team of experienced Android developers to help ensure the Android version of LumaFusion is high quality. LumaFusion offers a comprehensive video editing experience on Android tablets, with features like editing up to six video tracks, an enhanced magnetic timeline and the ability to cut, copy and paste between projects.
2. Concepts
Concepts, a vector-based sketchpad app, resizes to fit any Android screen size and works great with a stylus. Concepts wanted to ensure their users' stylus experiences felt as natural as putting pen to paper. The company used Android's tool and platforms to help achieve as close to zero lag as possible between the stylus tip and the lines drawn on the Concepts canvas.
"Android's tools and platform are making it easier to address the variety of screen sizes and input methods." says David Brittain, CEO of TopHatch, the developer of Concepts. "Android's mature set of APIs make it easy."
3. Google Photos
Google Photos is a great way to store and edit pictures, and with its multi-column layout on tablets, you can see more of your photos at once on the larger screen. If you're editing a photo, you'll see a new side panel with smart suggestions and easy-to-use tools that makes editing simpler. And if you're using Google Photos in split screen mode with a second app like Gmail that supports drag and drop, you can easily pull photos across your screen and drop them into the other app.
4. Sketchbook
Sketchbook, a sketching, painting and drawing app, built an intuitive tablet user interface that won't get in the way of where you're drawing. The app resizes to fit any screen size, and it comes with a full complement of customizable brushes. If you're using a stylus with your Android tablet, you can now hover the stylus over the canvas to preview how your brush strokes will look, before you draw them. This can help you create more accurate and precise drawings.
5. Adobe Lightroom
Adobe Lightroom, a popular photo and video editor, uses all the extra screen space on a tablet so it's easy to make precise edits to your photos. The app has a vertical navigation bar for all your editing tools, and if you tap and hold on the tablet's touch screen, you can see what the image looks like before and after your edits. Adobe Lightroom also lets you edit RAW files, which is ideal for users who love to take RAW photos on their Android devices.
6. Canva
Canva, a graphic design app for editing your photos and videos, added drag-and-drop functionality so users can quickly add content to their designs. You can drag and drop content from your uploaded files, or from apps like Google Photos and Chrome if you are using Canva in split-screen mode. Canva also updated its layouts to have a vertical navigation bar on larger screens, which gives you more space to work with. 
' ;
var i = Math.floor(r_text.length * Math.random());
document.write(r_text[i]);
link