The first Android tablet from OnePlus sticks to the firm's tradition of offering high-end technology at slightly cheaper prices – but will that be enough to beat the market-leading iPad?
The OnePlus Pad costs £449 and hopes to undercut rivals such as Samsung's £749 Galaxy Tab S8 and Apple's £499 iPad.
It has an 11.6in LCD screen, metal body and slim form, ticking all the right boxes for a premium tablet. The screen is bright and crisp, with a high refresh rate for smooth scrolling, competing well with high-end rivals. The screen size and width works well for video without needing giant black bars at the top and bottom of the screen, while also handling two apps side by side on the display with aplomb.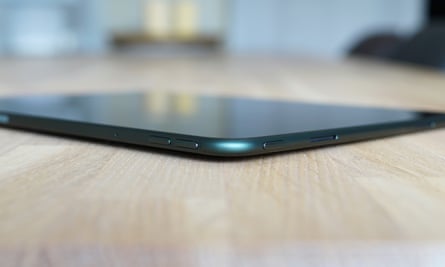 The tablet has four speakers that can create stereo sound regardless of the orientation you hold it, and which do a great job for movies and music.
The Pad lacks a fingerprint scanner, relying solely on simple camera-based face recognition to unlock the tablet. It works well in good light but fails in the dark and is not as secure as Apple's Face ID or a fingerprint, so some apps may not accept it. A few apps crashed when using it, which was annoying.
The front-facing camera is otherwise pretty good for video calls and can automatically pan and scan to keep you centred in some apps such as Google Meet.
Specifications
Screen: 11.6in 2800×2000 144Hz LCD (296 pixels an inch)

Processor: MediaTek Dimensity 9000

RAM: 8GB

Storage: 128GB

Operating system: Oxygen OS 13.1 (Android 13)

Camera: 13MP rear; 8MP front facing

Connectivity: wifi 6, Bluetooth 5.3, USB-C

Dimensions: 258 x 189.4 x 6.5mm

Weight: 552g
Solid power and battery life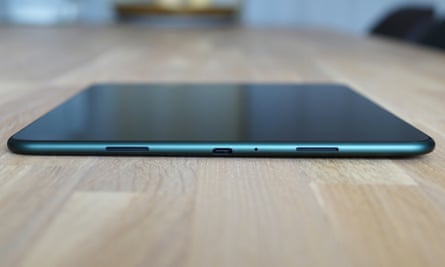 The OnePlus has a MediaTek Dimensity 9000 chip, which is short on power compared with the top Qualcomm and Apple chips but keeps the tablet feeling snappy in operation. It handled all the tasks I asked of it, such as browsing and using more than one app at a time. It also managed graphically intensive games such as Genshin Impact and Call of Duty on medium settings without much hassle, remaining cool while playing.
The battery lasts about nine hours of movie watching at near full brightness. Gaming takes its toll, consuming about 18% of the battery an hour with some titles, but standby time is excellent, barely dropping overnight, which isn't always the case for tablets.
OnePlus sells a £149 keyboard case, which works well enough, but the tablet isn't ready to replace a laptop any time soon. The company also offers a £99 Apple Pencil-like stylus and other accessories.
Sustainability
The tablet does not contain recycled materials but is generally repairable by OnePlus. The battery is rated to last at least 1,200 full charge cycles with at least 80% of its original capacity. The firm operates a trade-in scheme and is included in the parent company Oppo's yearly sustainability reports.
Oxygen OS 13.1
The Pad runs a lightly modified version of Android 13 called Oxygen OS 13.1. Compared with the software experience offered by Samsung on its tablets, the OnePlus is rather bare. It has split-screen multitasking and the ability to have an app such as the calculator in a floating window but OnePlus doesn't offer a full desktop-like experience. It works well enough for general use but I wouldn't try to replace a laptop with the Pad.
Android is still a work-in-progress on larger-screen devices such as tablets. Most third-party apps are simply blown-up phone apps, and some refuse to run in landscape. Google's various apps at least now work pretty well on the 11.6in screen.
A two-finger swipe down from the top draws a line in the centre of the display invoking a split-screen interface, which is a nice touch. But the OnePlus doesn't include Android's taskbar for apps; instead, the dock with your favourite and recently used apps is only on the home screen. A small tray for quickly launching apps can be pulled out from the side of the screen but it isn't as good. It also weirdly includes the standard Android phone app, which doesn't work on a tablet as it isn't a mobile phone.
The tablet has various tools to link it to a phone, such as sharing a 5G connection or copying and pasting, but they only work with a modern top OnePlus phone, not just any Android or iPhone.
The worst bit is that OnePlus will only provide three years of Android updates and four years of security updates from release, which is at least a year shorter than Samsung's top tablets and far short of Apple for the iPad.
Price
The OnePlus Pad costs £449 (€499/$479) and will ship on 18 May.
For comparison, the Amazon Fire HD 10 Plus costs £190, the Apple iPad costs £499 and the Samsung Galaxy Tab S8 costs £749.
Verdict
The OnePlus Pad is a surprisingly good Android tablet, offering premium features at a mid-range price.
It thoroughly undercuts Samsung's competitors and offers more than Apple's similarly priced models. The screen and speakers are particularly good for watching video, while the build and form of the tablet are great for using apps and playing games, too.
However, Android is still very much a work-in-progress on tablets, with lots of poorly optimised third-party apps. If you stick to content consumption apps or Google's various tools, you'll have a good but not quite iPad-level experience.
And that is the crux of the problem. The iPad is still a better tablet because of the software and apps. Meanwhile, the Pad is overshadowed by the incoming Google Pixel Tablet, which is due for release very soon and may kick off an Android tablet renaissance in a way only the software maker can.
The tablet will only receive four years of software support, which is too short and therefore loses a star.
Pros: great screen, good speakers, solid battery life, decent performance, premium feel, good video call camera, competitive pricing.

Cons: only four years of software support, Android experience still lagging for tablets, no taskbar for launching apps, poor third-party app support, no charger, keyboard or stylus included in the box, some advanced features require OnePlus phone.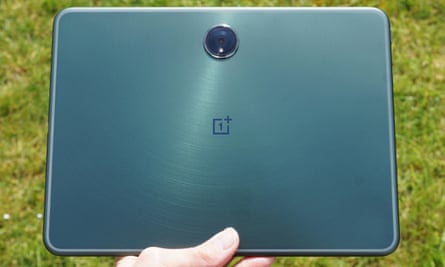 link