Google's long-awaited Pixel Tablet has finally landed to try to tempt users away from Apple's dominant iPad and make the large-screen devices useful in the home by becoming a smart display when not in active use – a feature that seems so obvious it's a wonder why no one has tried it before.
The Android tablet costs £599 ($499/A$899) and comes with a magnetic charging speaker dock to enable its dual function super power. It is Google's first Android tablet in eight years and marks the company's attempt to reignite the category following up on its recent software efforts.
The undocked Pixel behaves as a regular 11in tablet running Android 13 and features user profiles so it can be easily shared with more than one member of the family, something Apple still refuses to do with the iPad. The Pixel Tablet will get at least five years of software updates, longer than most Android competitors.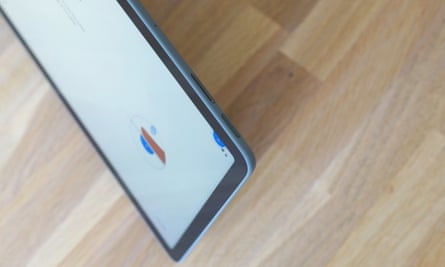 The LCD screen is crisp, bright and colourful. Its 16:10 widescreen ratio makes it fairly tall when held in portrait, which takes some getting used to for apps. But films, photos and other content look and sound great using the four speakers in the Pixel, which provide stereo sound regardless of which way up you hold the tablet.
It has the same top chip as Google's Pixel 7 phones and handles multiple apps and games well, while battery life is decent at about 12-hours of video playback in testing.
Android on the big screen
The Android tablet experience has improved in recent years. Every main Google app has been redesigned to take advantage of larger screens. Gmail has a split-pane view with your inbox on the left and an open email on the right. Chrome looks like the desktop browser and can place two active windows side-by-side in split screen as can Google Docs and other apps.
Multitasking is handled by a dock or taskbar at the bottom of the screen, which can be pulled up while in an app via a short swipe gesture. Drag and drop an app from it to one side of the screen to enter split-screen mode or press and hold on the app icon to pop up a little menu to achieve the same result. A slider allows you to resize the pair of apps.
The system works fine, and there are many more third-party apps optimised for Android on a tablet than there were even a year ago, including WhatsApp, Spotify and Evernote. Others such as Philips Hue just work like blown up phone apps, which is not a great experience.
Then there are many such as the Ring, Instagram, Authy and other popular apps that refuse to resize, appearing as smaller apps with big black bars covering the rest of the screen. It will take some effort from Google to get all these third-party developers to play ball.
Specifications
Screen: 11in 2560×1600 60Hz LCD (276 pixels an inch)

Processor: Google Tensor G2

RAM: 8GB

Storage: 128 or 256GB

Operating system: Android 13

Camera: 8MP front and rear

Connectivity: wifi 6, Bluetooth 5.2, USB-C, UWB

Dimensions: 258 x 169 x 8.1mm

Weight: 493g
As a smart display
Stick it on the magnetic dock to charge the tablet turns on "Hub Mode", which allows anyone to talk to it just like a Nest Hub smart display. They can ask Google for sport scores, play music or video, command smart home devices and set timers.
As a smart display the Pixel has fewer of the shortcomings common to the devices, such as being limited to the video, calling and music services directly supported by Google Assistant or Alexa.
You can just open the appropriate Android app on the tablet and start playing a video, make a call or play a game, which makes the Pixel much more flexible. You can also cast to and from the Pixel, which is a first for a tablet.
I found sometimes it couldn't hear me quite as well as the best smart displays. Once or twice the tablet stayed on the lockscreen instead of triggering hub mode when the device went into standby on the dock. The options for customising screen brightness in certain lighting conditions and other common features of smart displays are more limited. These little pre-release niggles feel like they can be easily fixed with app updates.
Sustainability
Google does not provide an expected lifespan for the battery but it should last in excess of 500 full-charge cycles with at least 80% of its original capacity. The tablet is repairable by Google and third-party shops with screen repairs costing £319 and genuine replacement parts to be made available from iFixit.
The devices are made with recycled aluminium, glass, rare earth elements and plastic, accounting for 35% of the tablet and 40% of the charging dock by weight. The company publishes environmental impact reports for some of its products. Google will recycle old devices free of charge.
Price
The Pixel Tablet starts at £599 ($499/A$899) including the charging dock and ships on 20 June.
For comparison, the Amazon Fire HD 10 Plus costs £190, the OnePlus Pad costs £449, the Apple iPad costs £499, the iPad Air costs £669 and the Samsung Galaxy Tab S8 costs £749.
Verdict
The Pixel Tablet is a fascinating experiment from Google at trying to figure out what people do with tablets in the home and make better use of them for the 80% of the time they are usually just left on a coffee table.
The two-in-one concept of a tablet that docks to be a smart display most of the time is such a good idea it's a wonder no one has pulled it off before. The quality of the Pixel's screen makes it great for video but also the best digital photo frame you can get. The flexibility of Android is far more powerful than traditional smart displays too.
As an Android tablet the Pixel is also generally well executed. Powerful enough with solid battery life, good speakers, a nice design and decent software. Third-party app support is improving, but Google still has a lot of work to do if it's going to match the iPad for tablet activities simply because developers produce more and better apps for Apple's device.
At £599 in the UK, the tablet is pretty pricey, even if 10in or greater smart displays are at least £200 on their own. It is more competitively priced in the US at $499.
Amazon's Fire tablets are cheaper, OnePlus's Pad has a smoother screen and Samsung's tablets make for better laptop replacements. But the Pixel Tablet might just be the best Android tablet because it is better suited to being a shared family device that is useful whether actively being used or not.
Pros: two-in-one tablet and smart display, dock included in the box, great screen, good speakers, solid battery life, decent performance, multiple user accounts, recycled material, good video call camera.

Cons: expensive, Android experience still a work in progress for tablets, not as good as an iPad for apps, screen only 60Hz.
link