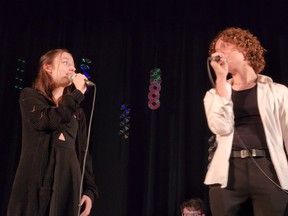 Article content
An evening of music with Collège Notre-Dame's Le Bistro
Article content
On June 2 at 6:30 p.m., Le Bistro, Collège Notre-Dame's singing café, will present its end-of-year repertoire. The concert takes place in the school gymnasium at 100 Lévis St. Tickets are $5 each and snacks will be available for purchase during intermission.
Le Bistro is made up of music students from Grades 9 to 12. Under the direction of Renée Dupuis, the performance will please music enthusiasts of all ages. Launched in 2006, Le Bistro finds its musical inspiration in blues, rock, country and folk, as well as French music.
Students will present hits by artists from Québec such as Brigitte Boisjoli, Martine St-Clair and Michel Pagliaro. The students will also honour their French roots with songs by Ben l'Oncle Soul, Ezra Muquoli and Michel Fugain. Le Bistro will also present a Russian folklore song translated into French. The audience can also expect a few translated hits from English-speaking artists, such as Frankie Valli and Rihanna.
Article content
Tickets can be purchased at the main office at Collège Notre-Dame or at the door prior to show time. Proceeds from ticket sales will go towards CND's music program. For more information, please call Collège Notre-Dame at 705-674-7484.
Cinefest Sudbury relaunches CTV Best in Shorts competition
Cinefest Sudbury organizers, in partnership with CTV, are thrilled to relaunch the CTV Best in Shorts competition. 
The competition, which is now accepting submissions, provides Northern Ontario filmmakers with an opportunity to advance their careers, have their work screened to a festival audience, receive exposure within the film industry and have a chance to compete for a variety of cash prizes.
There are four categories, including open; post-secondary student; secondary school, which grants up to $1,250 to secondary school students who display notable talent in the areas of animation, documentary, experimental, music video and/or narrative filmmaking; and the Northern Flicks award, which will be presented to the film that best celebrates aspects of life in Northern Ontario.
Article content
All entries must be accompanied by the completed application form, which can be downloaded at cinefest.com. Finalists selected by the jury will be announced following the submission deadline on Aug. 18 at 4:30 p.m.
The 35th edition of Cinefest Sudbury takes place Sept. 16-24.
Our Story at Gallery 6500 
Gallery 6500 is pleased to present Our Story in Black and White. 
This show features original monochrome images of Sudbury, created by five local photographers, including Debbie Anzinger McKay, Caio Higa, Chantal Larochelle, Debb Trahan-Pero and Rita Vanderhooft.  
Each photographer was asked to comment on social, political, economic and environmental issues in our community. The impact of COVID-19 became the focal point of many of their submissions. Their photographs capture the overwhelming sense of uncertainty, worry, fear and isolation this community experienced during the pandemic lockdown periods.
Article content
The exhibit is on now. Regular viewing times are weekdays from 8:30 a.m. to 4:30 p.m. at 66 Brady St., inside the Steelworkers Hall. 
This exhibit is dedicated to the memory of Don Kuyek. 
Northern Artists Gallery hosts show
The Northern Artists Gallery will be putting on its first spring art show from May 11-14, showcasing a variety of mediums.
The show, at 174 Elgin St., will feature close to 20 northern artists showcasing an array of original works available for purchase — mediums will include painting, pottery, photography, sculpture, wood-working, stained glass and textile works. 
"Sudbury has an appetite for all things local and we're very excited to be bringing this local art show to the community," said Paddy O'Sullivan, chair of the Northern Artists Gallery. "The spring art show will be showcasing the incredible talent that exists in Northern Ontario, shining a light on the many members of the Northern Artists Gallery."
Article content
Interested in acquiring an original work of art and meeting the artist? An opening reception takes place on May 11 from 7-9 p.m.
All works will be available for purchase. Artists will be present to take you through their creative process. 
Eleventh annual PlaySmelter festival wraps today
PlaySmelter, Sudbury's theatre festival, returns next week from May 11-14. It is the 11th annual festival and takes place at the Sudbury Theatre Centre.
This year the festival features playwrights from Moose Factory, Thunder Bay, Sault Ste. Marie, Timmins, North Bay and Sudbury.  All are gathering at PlaySmelter, the hub for new play creation in Northern Ontario. An artists summit will also be held during the festival, giving local artists the opportunity to gather and network with visiting creators.
Article content
The festival opens with a playwrights' cabaret, a special celebration of northern Ontario storytellers. The audience will hear offerings from several new plays in development — all created by playwrights who have crafted these new works during Pat the Dog Theatre Creation's inaugural Northerners' Creation Unit.
Next up is first look readings of new theatrical works with offerings by Karen Thistle, Eli Chilton, Garrett M. Ryan and the English translation of Alex Tétreault's Nickel City Fifs, prior to its production next month at Théâtre du Nouvel-Ontario. 
On Mother's Day we present a special family-friendly reading of Witches in the Woods, prior to its northern Ontario premiere in 2024. Maker of Whimsy balloon installation artist Drew Ripley will be on-site to delight prior to the reading.
Article content
Other pop-ups include Poetry Pet by Suzanne McCrae, a visual art installation; offerings from Latitude 46 Publishers; and delicious treats from Le Baquette Magique. All pop-up events are free.
Tickets are $15 at the door (for each event). Festival passports cost $50 (for all events). Details, including tickets, are available at playsmelter.ca.
The PlaySmelter festival is produced by Pat the Dog Theatre Creation, a  catalyst for new play creation. Pat the Dog is nationally recognized as a leader in the cultivation and promotion of regional Ontario theatre creators and their work. Since 2006, we have played a pivotal role in nurturing artistic practice, and responding to change and growth in our creative communities.
Article content
Mimi O'Bonsawin album release 
Join Mimi O'Bonsawin in celebrating the release of her sixth studio album, Willow.
Willow was recorded by O'Bonsawin and her partner/co-producer, Ryan Schurman, who will be featured on drums during the concert. Not only do they share the stage together on tour, they also created this album in their log home studio, which is tucked away in the woods allowing them to weave in textures from the natural world that surrounds them. 
Indie Cinema hosts three screenings as part of Age Up film series
Every other Wednesday at 2 p.m., the Sudbury Indie Cinema has hand-picked a selection of films aimed at older adults with the theme of challenging views of aging. All films are $6. 
Aline screens on May 17. This is a French biography/comedy film directed, written and starring Valérie Lemercier, who won best actress at the Cesar Awards. The film is based on the life of Celine Dion. Aline is presented in French and English, with English subtitles. 
Article content
The third film of the series is The Last Bus, on May 31. This is a dramatic film staring five-time BAFTA award nominee Timothy Spall (Secrets and Lies), about a man who ends up traveling across the UK by bus to fulfill his pledge to his late wife to spread her ashes near their first home. 
The Age Up film series is geared towards older adults, though we encourage anyone interested to make the most of these special Wednesday matinee screenings. Tickets are available for purchase at the door before the movie, or online for pre-order at SudburyIndieCinema.com. Please call the cinema at 705-674-0000 any time between 10 a.m. and 6 p.m. for more information. 
Seed the Skin by Laura St. Pierre 
The next exhibition at the Galerie du Nouvel-Ontario is Seed the Skin by artist Laura St.Pierre. It runs until May 20.
Article content
Presented in the form of an immersive installation, Seed the Skin continues St. Pierre's ecological approach, highlighting the relationship we have with the environment while exposing the harmful impacts of our activities.
Composed of a security shack, monitors and plants, the sensation of being cornered, in a place devoid of human activity, plunges us into a universe that seems to have reached the limit of its capacities. 
But St.Pierre's intervention makes us aware of the protection of our ecosystems, while ensuring the sustainability of natural resources, offering us perspectives and sustainable alternatives for the future.
Seed the Skin is on now at the GNO, inside Place des Arts. Admission is free. 
Article content
Cinefest announces Master Gardener as third Red Carpet film of the year
Cinefest Sudbury organizers are set to bring Paul Schrader's Master Gardener to the big screen as part of the Red Carpet Patron program. 
Schrader, best known as the screenwriter for acclaimed films Taxi Driver and Raging Bull, closes out his unofficial trilogy of films that began with First Reformed in 2017 and continued with The Card Counter in 2021.
Master Gardener will screen at SilverCity on May 31 at 7 p.m.
Master Gardener follows Narvel Roth (Joel Edgerton), the meticulous horticulturist of Gracewood Gardens. He is as much devoted to tending the grounds of this beautiful and historic estate, to pandering to his employer, the wealthy dowager Mrs. Haverhill (three-time Academy Award nominee Sigourney Weaver). When Mrs. Haverhill demands that he take on her wayward and troubled great-niece Maya (Quintessa Swindell) as a new apprentice, chaos enters Narvel's spartan existence, unlocking dark secrets from a buried violent past that threaten them all.
Article content
Tickets are on sale now at cinefest.com; at the Cinefest box office, 40 Larch St., unit 103; or by calling 705-688-1234.
All Red Carpet patrons are granted free admission, as well as complimentary pop and popcorn with their Red Carpet Patron program card. Visit cinefest.com/rcpp for details.
PA days at the STC
Exploration and fun are the key words for the Sudbury Theatre Centre's PA day theatre camps, for youth aged eight to 12.
Six full-day camps will run from 9 a.m. to 4 p.m. on June 9.
The program includes collaborative activities and games designed to build imagination, confidence and creative expression.
Students will enjoy learning drama fundamentals such as role-playing, tableaux and stage-blocking. Character work and storytelling activities building on the theme of relationships and respect will challenge students to think critically and creatively.
Article content
The camps will be led by Garrett Carr. Enrolment is limited to 20 students. Masks are no longer mandatory. Activities will be held in instructional spaces that promote physical distancing. Hand sanitizer will be readily available throughout the building and in the washrooms.
Parents may register their children for more than one camp, but payments will be collected for one camp at a time. The cost is $65 per day (includes HST) or $60 for current STC Academy students. After-care until 5 p.m. is available upon request for an additional $10 per day.
For more information, including registration forms, visit sudburytheatre.com/youth. To register, email completed forms to the STC box office at [email protected] and call 705-674-8381 ext. 1 to provide payment. 
link